Her kommer oversikt over planlagte arrangementer og konkurranser for 2020.
Namsenfjord Ultra Triathlon 2020
Namsenfjord Ultra Triathlon (full, halv og kvart) er utsatt til 25. – 26. juli og vi håper å kunne gjennomføre arrangementet i henhold til de til enhver tid gjeldende regler og retningslinjer ifht smittevern.
Vi velger å legge ut invitasjon med arrangementinfo og påmelding her og vil informere og oppdatere underveis ifht endringer:
General information:
Arena / Transition: At Circle K at Spillum / Namsos
Swim 8 km – start at 06:00
Bike 350 km
Run 85 km
Max time Sunday at 20:00 (38 hours)
Manditory racebrief meeting will be on Friday at 20.00.
PS! There will also be arranged half ultra distance (140.6 Miles) and quarter ultra distance (70.3 Miles) in the same race course (se details on our race information on Facebook).
Start Requirements:
Completed min. 1 long distance triathlon (IM 140.6, Xtri or similar) or Ultra run 50 Miles (or longer) for the past 2 years.
Maximum 15 participants on the full distance.
Registration:
By application to the Namsenfjord Triathlon by 07. June 2020 at 20:00.
Mail: namsenfjordtriatlon@gmail.com
Price: 500, – NOK (incl. Start number, available equipment in transition, simple serving, Finisher T-shirt)
Race info participants / support:
# everyone races on their own responsibility.
# participants are requested to have min.1 person who supports through the race (possibly several who share in supporting the participant)
# participants must be self-sufficient throughout the race. All participants must provide first aid equipment in transition. Also applies to suitable equipment for transition / rest (sleeping bag, blanket, warm clothing, towels, extra shift clothing, suitable tool for bike and the like)
# The participant / support is responsible for their own timing and optional registration in the results list.
#All must comply with traffic rules and take into account the surroundings. Violations and littering lead to disqualification. Pay attention to fellow participants and assist each other by problems or accidents.
Course information for swimming, cycling and running:
Swimming: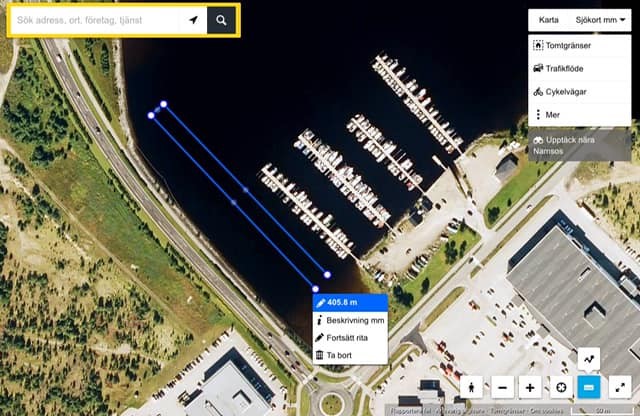 The swimming course is 400 m x 20 rounds (8 km) and starts next to the boat harbour at Spillum. Turn around bouy`s at each end and in clokwise direction. There will be a kayak on the water for safety, and a security person at the starting point.
Participants can leave the water for support / drinks and rest at the starting point. Participants cannot receive support from the kayak, but can if needed rest on the water, hang on the kayak.
After swimming, it is approx. 100 meters run / walk in to T1 (shift zone) at Circle K.
Bike: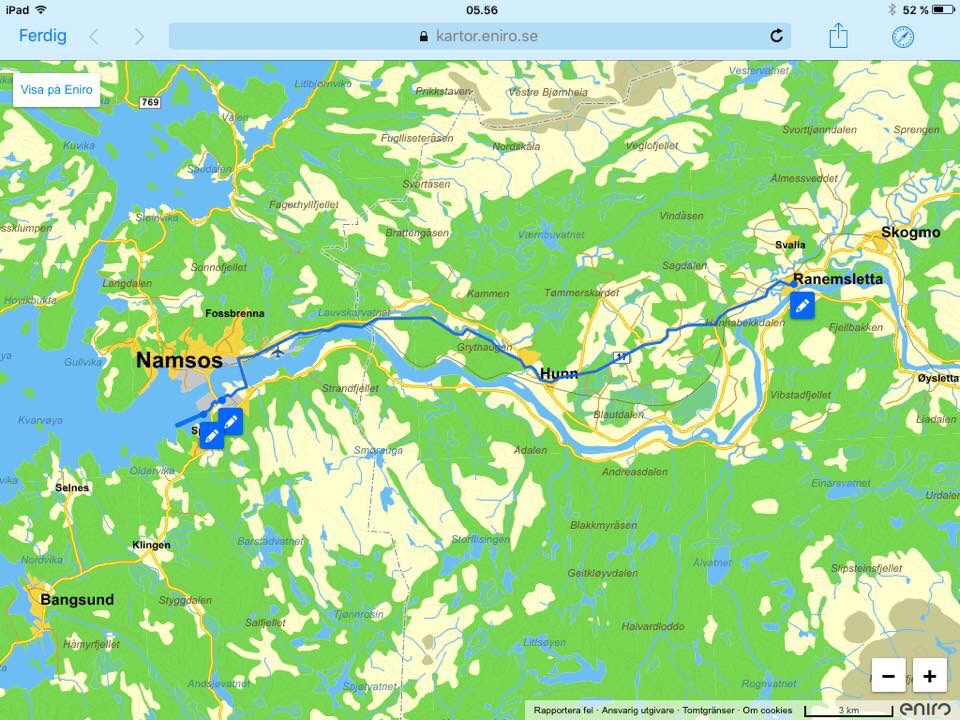 From T1, you cycle up to and over the Namsen bridge. After the bridge, turn right in direction Overhalla / Grong on RV17 until you turn around the roundabout in Ranemsletta (it is about 25 km from T1 to turn – a total of 50 km). The same path back to Spillum where it is turning point in the roundabout at Circle K. The participant must bike round the roundabout before possibly pitstop / support / rest at T1.
The bike path is cycled 7 times (50 km x 7 = 350 km).
The participants must have red lights at the back of their bike(s) functional during all of the biking.
Support cars are not allowed, but participants can receive / request assistance out in the course by technical problems or accidents. It is permitted to change the bike along the way. Music is not allowed on the ear during cycling.
Running: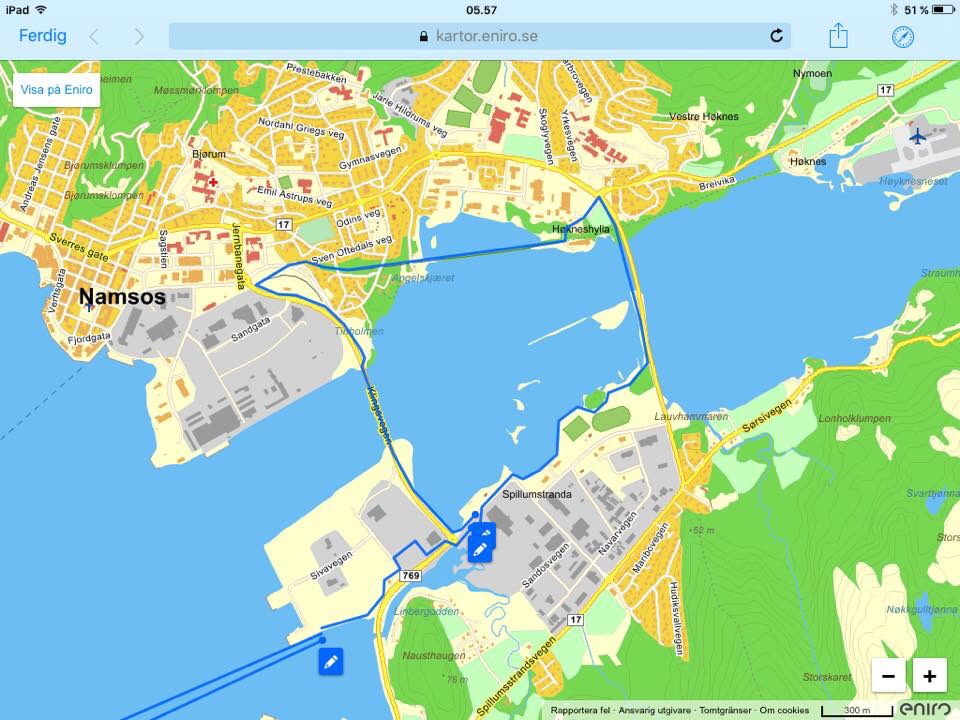 From T2 (changing bike to run), a 5 km run clockwise. The trail is flat and runs mainly on gravel / path. The trail is called the «Brurunden recreational path» and it crosses the river Namsen on the lower and upper bridge for each round. There is no motorized traffic at Brurunden.
Participants can receive support / take rest / change of clothes and the like at T2 at each round if desired. Participants are allowed to have a support runner / support cyclist during the run, but only as a pacer and cannot receive physical support / drink / food.
It is permitted to use music and other on the ear during the run.